0

Your cart is currently empty..
Elitewheels AFF wheelset road bike wheelset dt swiss hub
FEATURES
.Elitewheels 2.0 graphics and cosmetic identity that scream speed
---
.Higher spoke tension
---
.Comprehensive stiffness, durability, agility, versatility

---
.Crystal polishing brake surface

---
.Use DT SWISS 350 hub
---
.Built with pillar aero wing 20 spokes

---
.Tubeless ensuring secure performance even when ridden at lower tire pressures
---
PRODUCT SPECIFICATIONS
RIM
·Series:AFF

---
·Size:700C

---
·Use:Road

---
·Type:Clincher/tubeless/tubular

---
·Inner width:15.6mm/17mm/18.5mm/19.5mm

---
.Outer Width:25mm/27mm/28mm/29mm

---
·Depth:30/35/38/40/45/47/50/55/60/82/88mm

---
·Weight Limit:130-135kg

---
.Spoke holes:20H/24H
---
·Spoke Tension:100 ~110kgf (radial) /115 ~130kgf (disc) front, 120~130kgf rear

---
·Tyre Pressure:130psi recommended max

---
·Tire:23C~28C recommended
---
HUB
.Dt swiss 350,,straight pull
---
.Brake interface: V brake
---
.Axle:QR*100mm(F).QR*135mm(R)
---
.Freebody system: Ratchet system 18teeth
---
.Cassette body:shimano
---
.Hole:front 20.rear 24
---
SPOKE

.Pillar aero wing 20

---
.Colar:black

---
.Spoke pattern:Radial- F Radial/Two-cross-R
---
.Spoke count:20F/24R

---
NIPPLE
.Pillar double squsre
---
​.Color:black

---
OTHER
.Warranty:100days

---
.Assembly method:Handbuilt

---
.Exteas:Spokes.nipples,brake pads,skewer

---
WEIGHT
.YAR30-01 30mm±1435g

---
.YAR35-01 35mm±1495g

---
.YAR38-02 38mm±1505g

---
.YAR40-01 40mm±1555g

---
.YAR45-01 45mm±1575g

---
.YAR47-01 47mm±1535g

---
.YAR50-02 50mm±1605g

---
.YAR50-03 50mm±1635g

---
.YAR55-01 55mm±1635g

---
.YAR60-02 60mm±1690g

---
.YAR82-01 82mm±1890g

---
.YAR88-01 88mm±1980g

---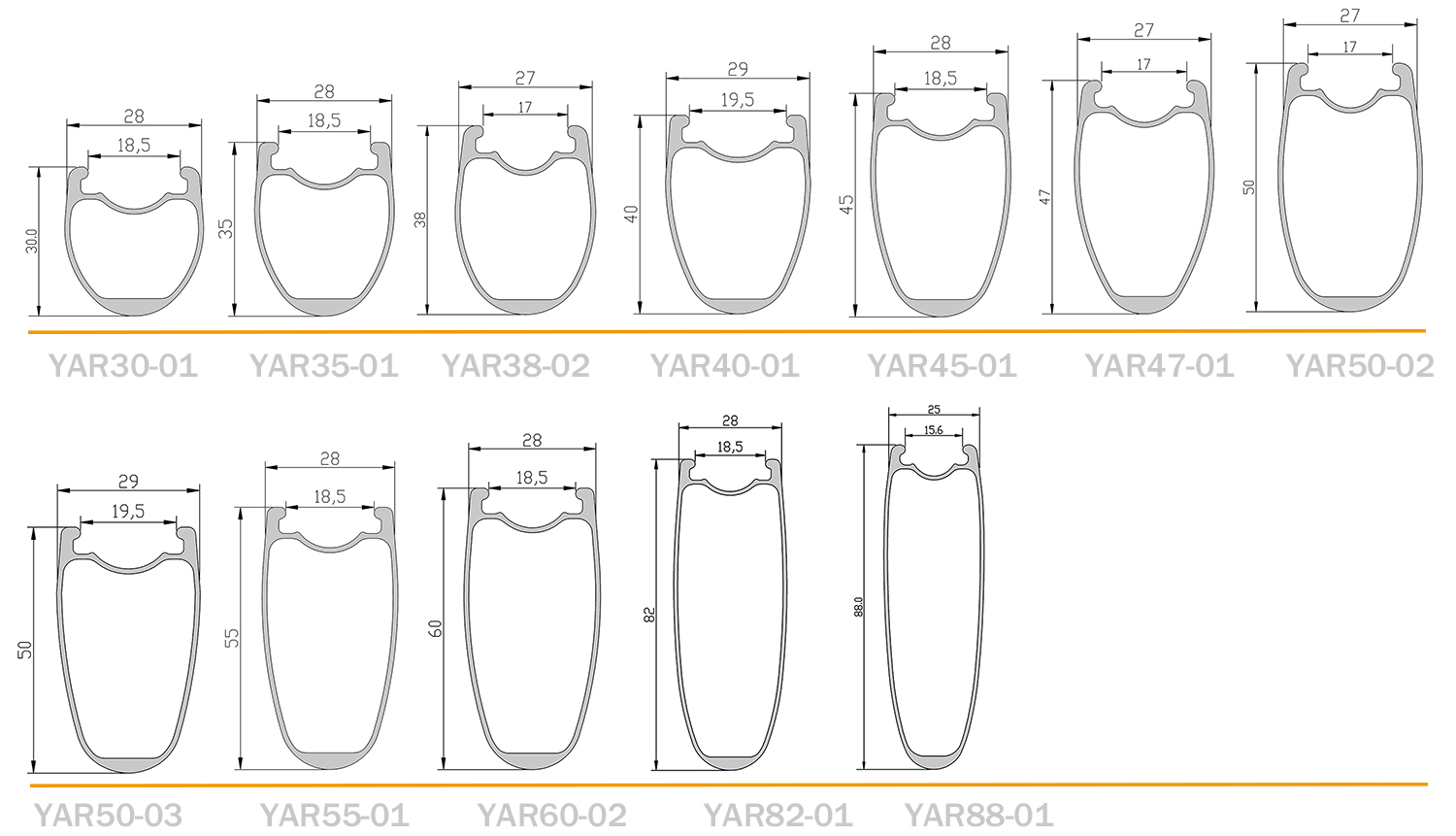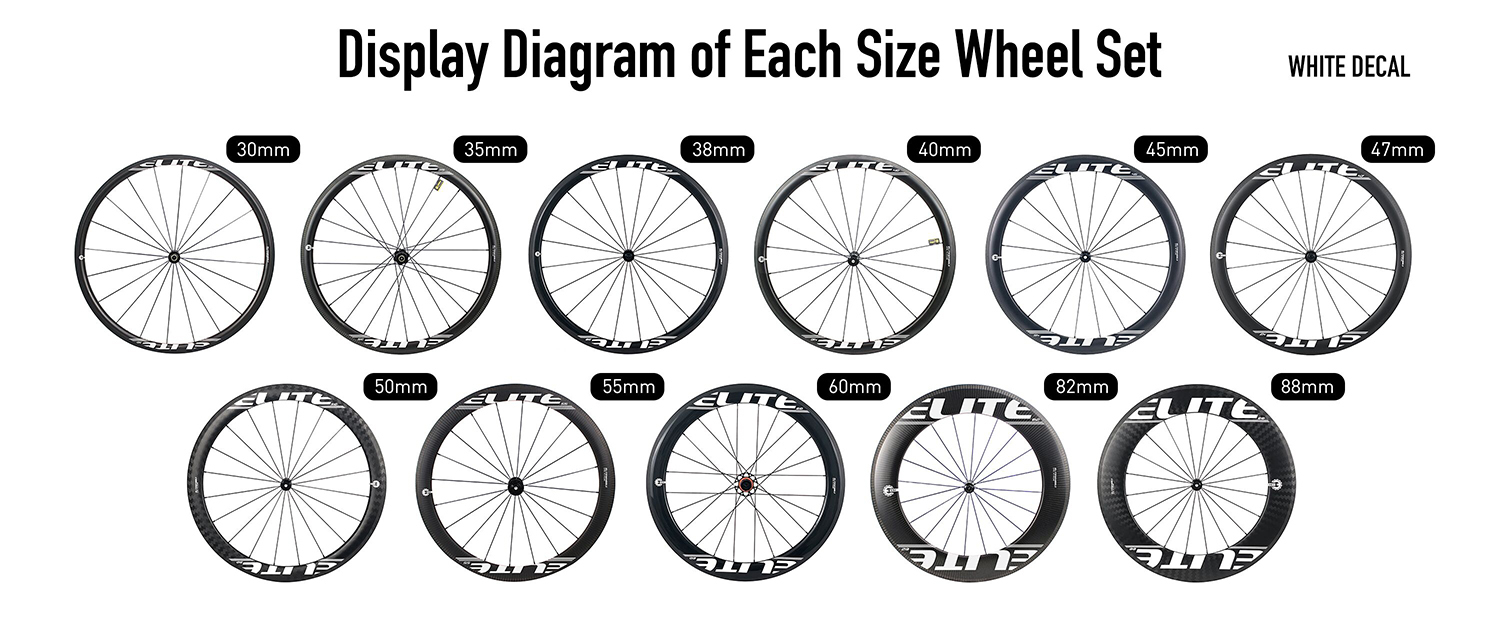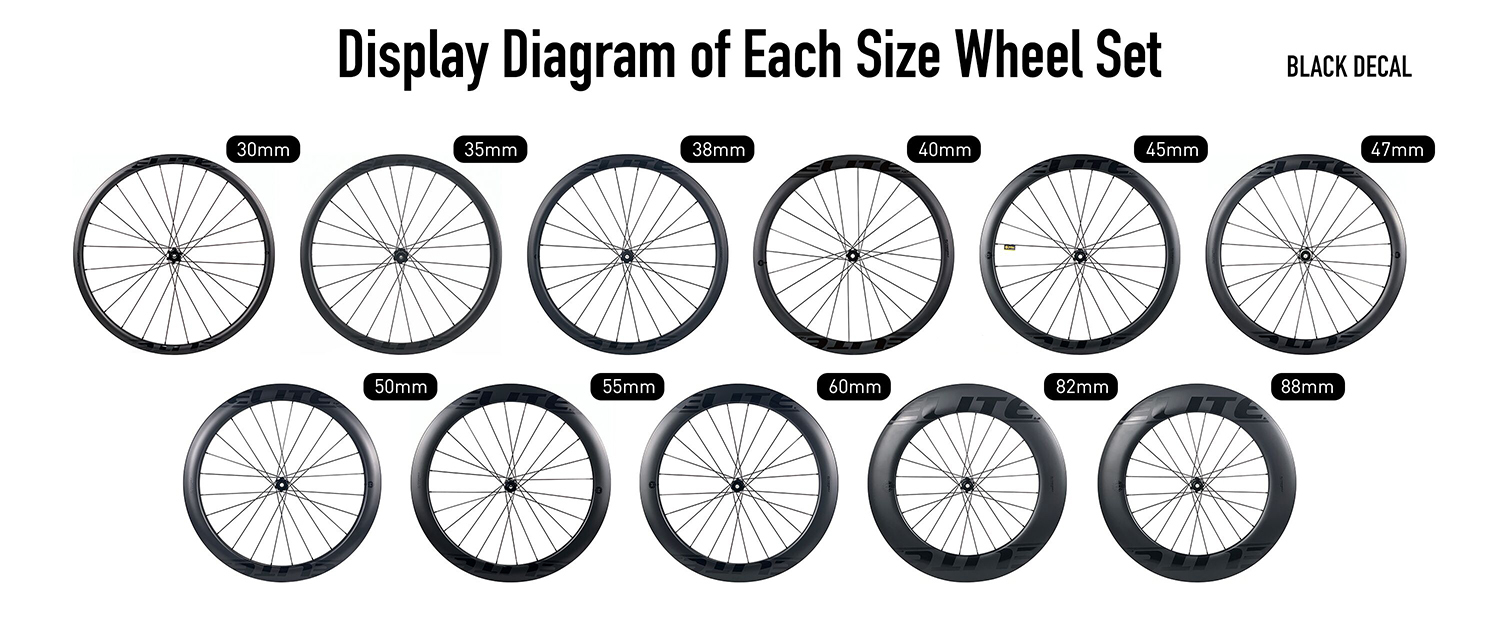 ---
TECHNOLOGY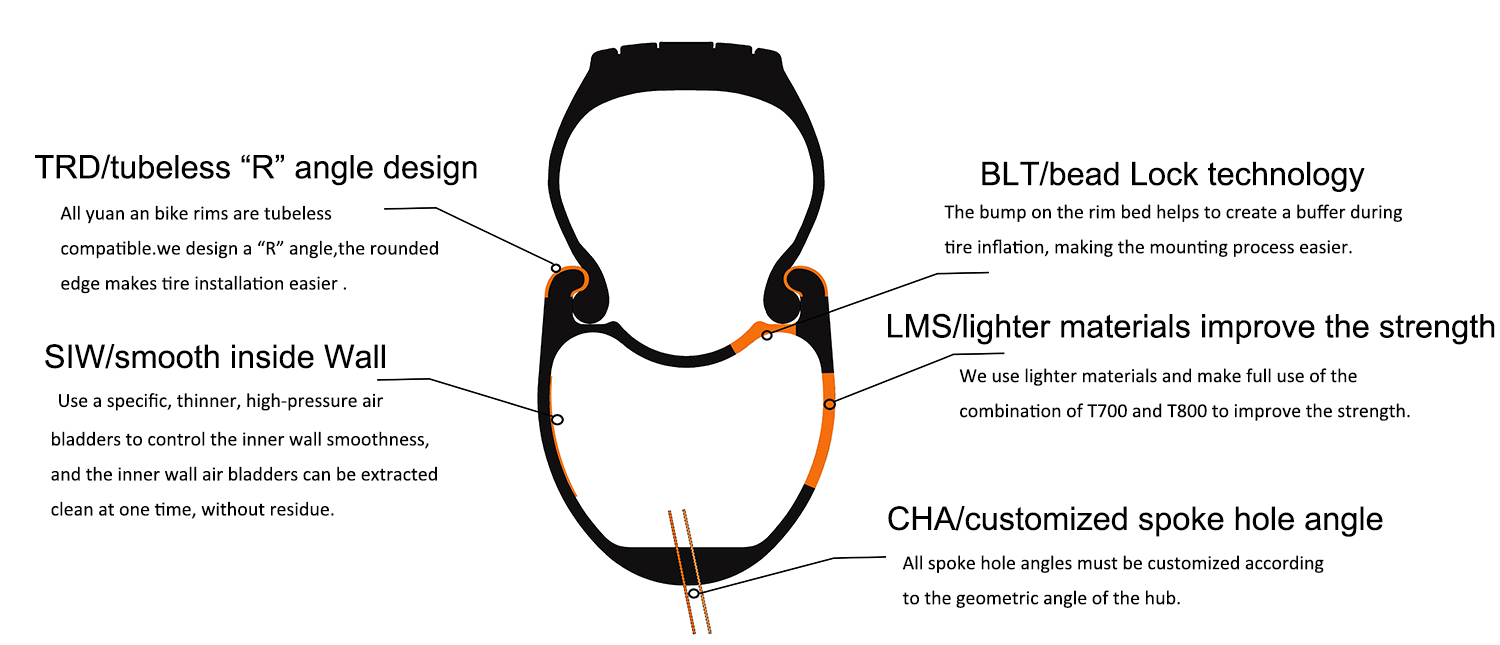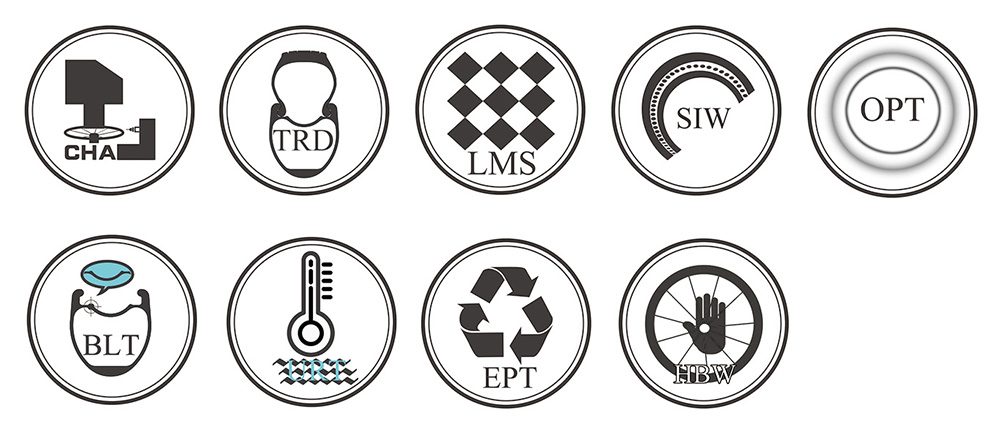 ​CHA/Customized spoke hole angle

All spoke hole angles must be customized according to the geometric angle of the hub.all drilled holes are inspected to ensure they are free of burrs.You can request a customized drilling pattern if you have a unique wheel build.
TRD/Tubeless R angle design
All elitewheels are tubeless compatible.We design a R angle,The rounded edge makes tire installation easier and offers increased support during hard cornering with a softer edge and larger surface area.
LMS/lighter materials improve the strength
We use lighter materials and make full use of the combination of T700 and T800 to improve the strength.
SIW/smooth Inside Wall
We use a specific, thinner, high-pressure air bladders to control the inner wall smoothness, and the inner wall air bladders can be extracted clean at one time, without residue, not only effectively improve the tightness of the carbon fiber yarn, but also allow the spoke cap to be more tightly integrated with the spoke hole
OPT/one piece technology
Compared to the technology of 3 piece, our one piece tech is more technically difficult and takes longer to produce, but the rigidity of the rim is at least 7% higher
BLT/Bead Lock technology
The bump on the rim bed helps to create a buffer during tire inflation, making the mounting process easier. When the tire is mounted, the raised portion reinforces the tire bead, making it harder to "burp" or fall back into the drop channel.
URT/Unique resin technology
To improve the stability of the wheel, we think the material control is the root.So we import carbon fiber raw yarn from Toray, Japan, and mix with the high-temperature-resistant resin which researched and developed by our own, weaving them to be prepreg .So, from the source we firmly control the quality.
EPT/Environmental protection technology demoulding
Compared with many oil-based mold release agents, we use a neutral mold release agent imported from Germany, because we use labeled "NAK80 steel", which is a very high-strength abrasive tool, compared to ordinary P40 For steel, NAK80 has a firmer surface and a smoother rim surface.
HBW/Hand bulit wheel
From prototype to production, every wheel gets assembled by hand. There is no substitute for the experience and meticulous attention to detail that a human being brings to the craft of wheel building.
Place of Origin:

Fujian, China
Series Name::

AFF
Size::

700c
Spoke Hole::

20-24h
Hub::

DT SWISS 350
Spoke: :

pillar Wing 20
Warranty: :

1000 days
ByBrazuka userTuesday, 11 May 2021